Florals
While florals have never really gone out of fashion for wedding dresses, they have generally featured in neutral ivory and white lace. In 2022, a huge plus size bridal trend is colourful floral designs and motifs. Whether using hand painted designs like my cherry blossom dress, hand painted lace like my wedding dress or a touch of multi-coloured embroidered lace, this trend is fun and unique for all shape brides. My rule of thumb is that petite brides should wear more delicate designs, while plus size brides can wear wedding dresses with bigger, more bold floral designs.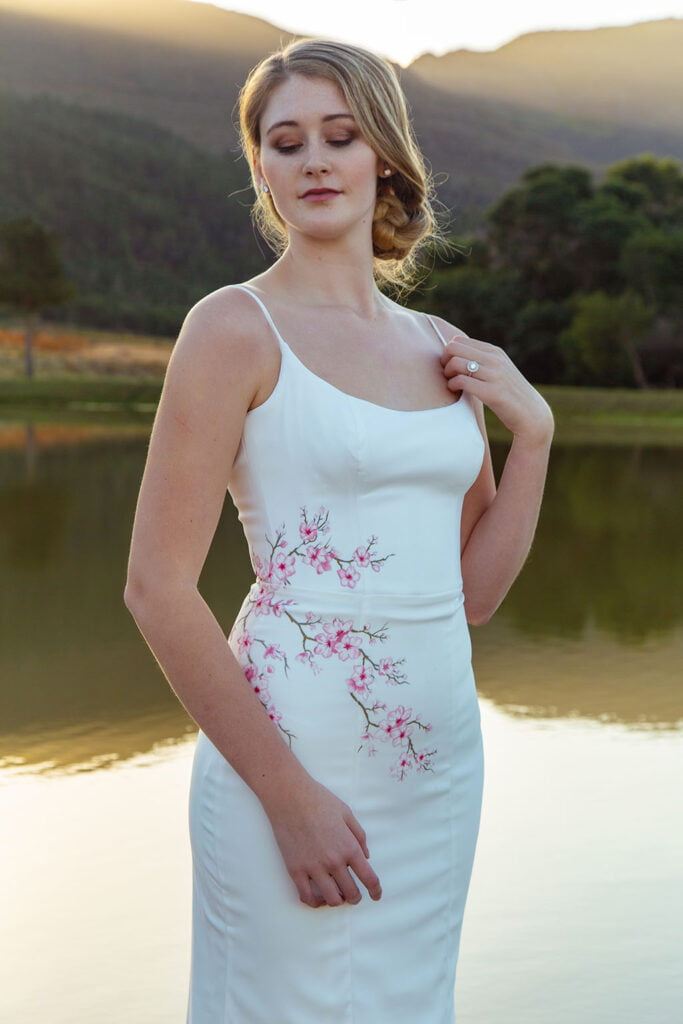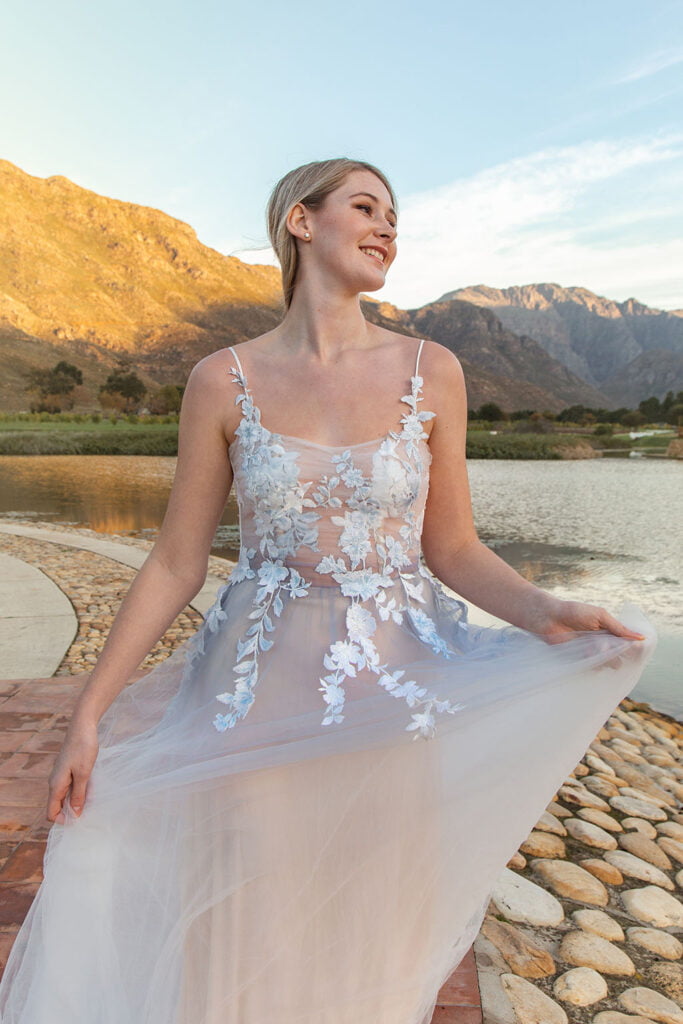 Colours
I am pleased to see that the international designers are introducing soft colours into their wedding gowns.
I have been using dip-dying to create soft blush pink ombre and lavender hues in my wedding dresses for a few years already, and in my most recent range I have introduced green ombre and duck-egg blue to the mix. Because it is still bridal, a base colour of ivory remains. Soft, pastel colours keep the romance of the occasion. Plus size wedding dresses look just as beautiful as any when they incorporate these colourful touches.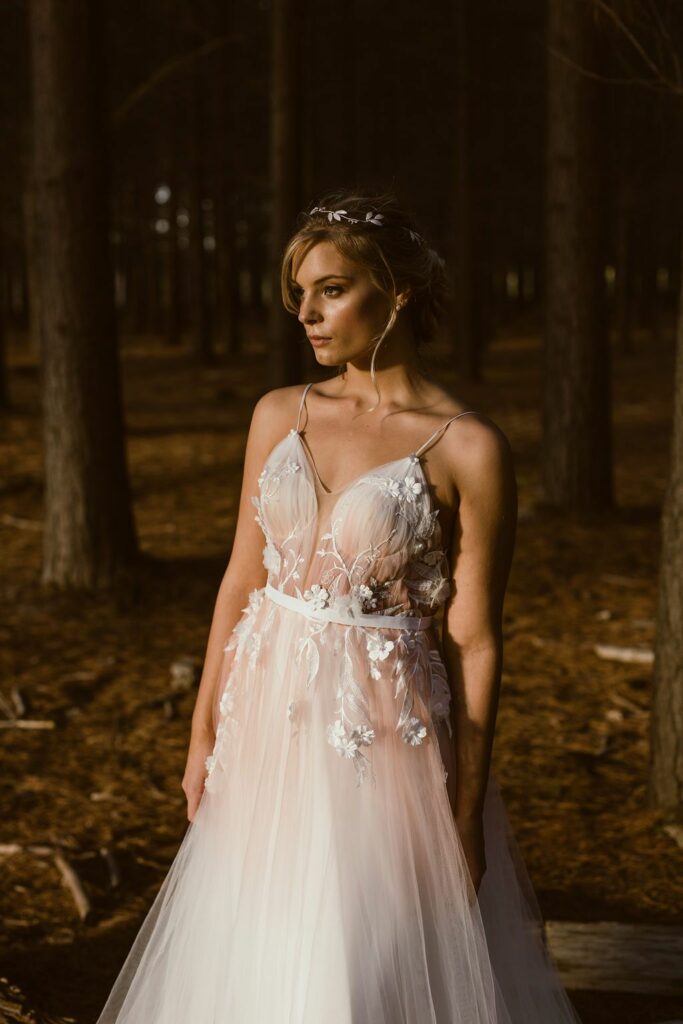 Drapery
The biggest new wedding dress trend in 2022 is the minimalist trend. This means a return to plain, simple, structured dresses with less finicky details and lace. For plus size wedding dresses, clean lines with a simple A line shape can be incredibly flattering, and that coupled with the corset trend to cinch in your waist will have you looking completely breathtaking on your wedding day! The minimal trend incorporates the use of drapery, and as most curvy women should know, this is a very flattering detail as it hides a multitude of sins. My draped satin off-shoulder dress in the curve collection is a great example of this trend, as is my chiffon A-line gown with puff sleeves. Let drapery be your detail in 2022 to create romance or and elegance in your wedding dress!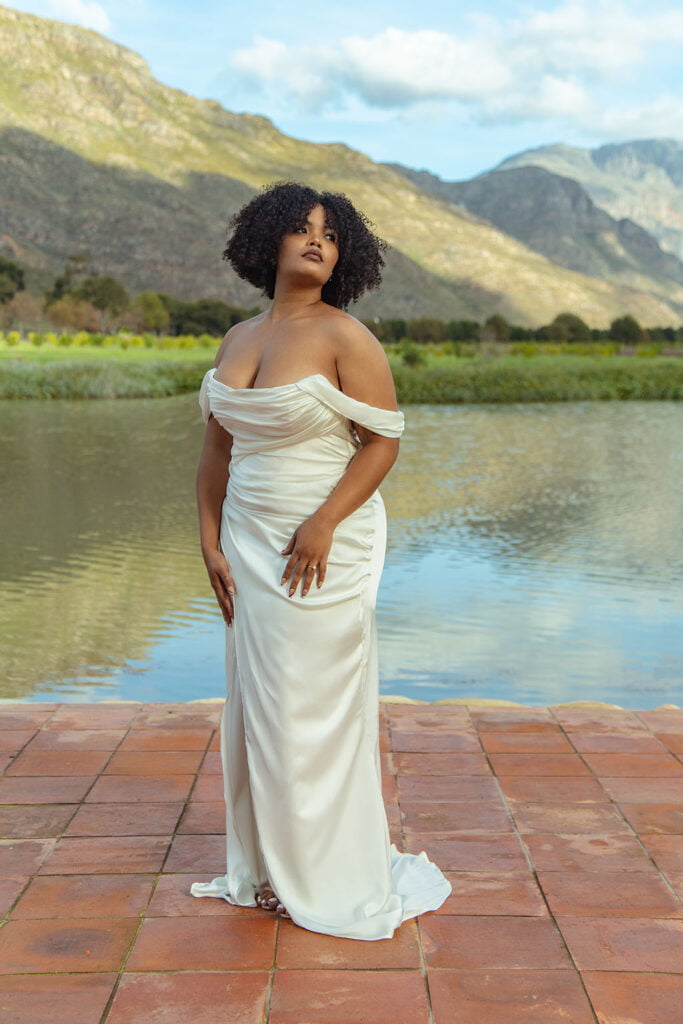 Romantic Sleeves
In the past few seasons we have seen a return of the oversized puff sleeve. While this is fun on the runway, I have found that big puffy sleeves are generally unflattering as it makes us look bigger than we are. So, with that in mind, I recommend tailoring this trend for the plus size wedding dress by adding illusion sleeves that are see-through. Use soft fabrics or sleeves that may are a bit more fitted towards the top of the arm, with the volume being at the bottom. In the Ivy dress, I made sleeves from silky chiffon and added drama with a flowing bell sleeve.
Many plus size brides are not fond of their arms, so the wedding gown trend that incorporates a sleeve of sorts is perfect!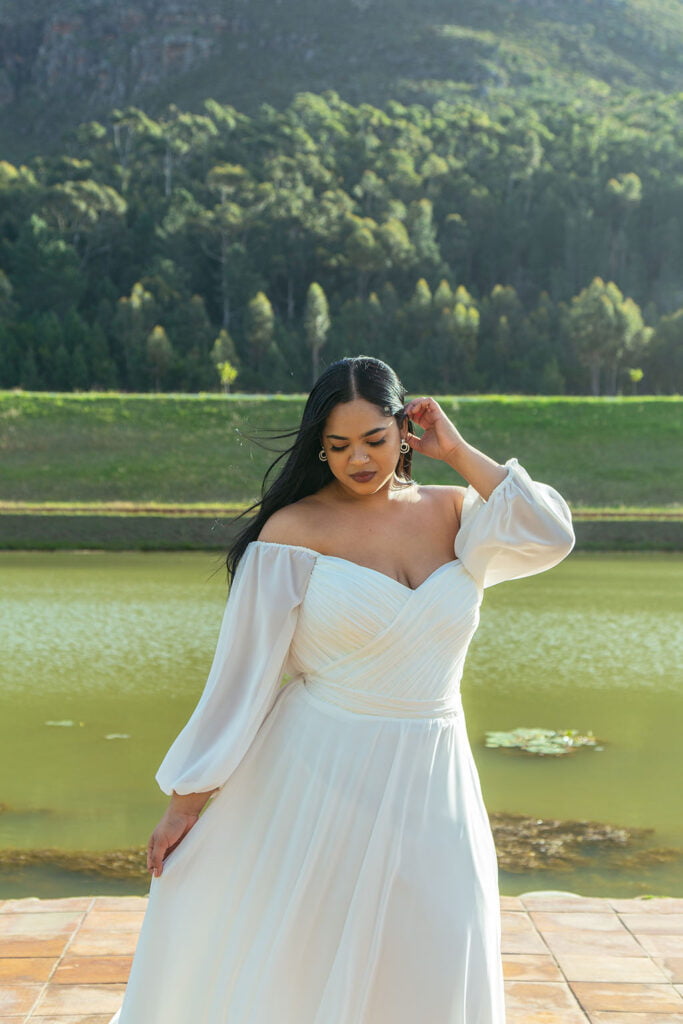 Square neck
Deep, plunging v-necklines have dominated bridal for a long time now, and finally we have a bit of a change-up with the new square neckline. This neckline opens the chest and shoulders, drawing attention to what is many plus size brides best attributes! When coupled with an A-line or even ball gown skirt, this neckline emphasizes the decolletage. It is sexy and modern and perfect for plus size brides.
Waist-cinching corsets
While corsets have been a bridal staple for as long as wedding dresses have existed, in recent years a bigger trend has been the unstructured illusion bodices. In 2022 corset dresses have made a massive comeback and we personally have worked on revolutionising the way that we make corsets. For us, we have noticed an increasing need by brides to have dresses that give them really good bust support and shaping. We have been revolutionising the way that we make corsets, including making inner lycra corsets to cinch in the waist and lift the bust while keeping the natural shape of the bust for a stunningly curvy silhouette.
Look to our curve collection for examples of my exquisite corsets.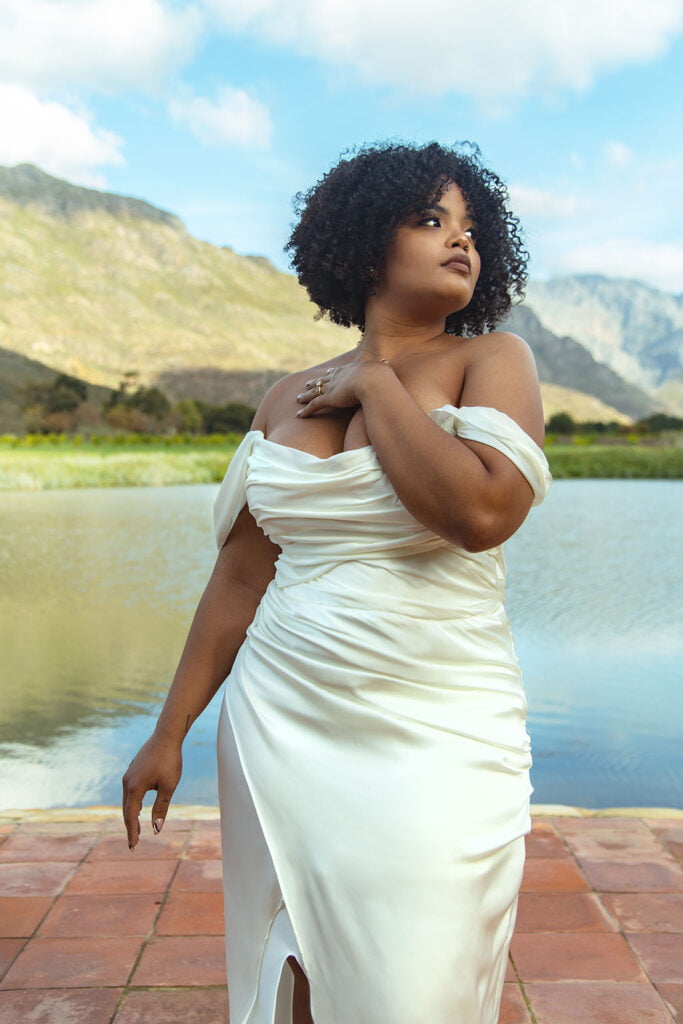 Sexy Slits
High, sexy leg slits have become an absolute must element in Matric Dance dresses in 2022, but are also big for wedding dresses. For plus size brides, the leg slit may show off one of your very best assets. Since we want to stay subtly sexy for wedding dresses, It's best not to make the slit go too high, but it's a lovely element to add if you are confident about your legs!