How much a wedding dress costs can be quite a controversial topic, since big name brands such as Berta Bridal and Yolan Cris will cost on average R150 000, while decent looking (but don't be fooled) dresses can be purchased on Amazon for R350. Today, however, I am going to talk more about the middle of the range where most of us would be shopping.
A wedding dress in South Africa will generally cost between R17 000 and R45 000 with the average being around about R20 000 to R30 000. This will vary from brand to brand, with imported dresses often going well over the R35 000 mark.
Note from the designer:
It is very important to note that ready made, imported dresses are not necessarily the cheaper option. With crippling import duties and high shipping costs, items are landing in stores, before profit, at a very high price.
If you are thinking of bypassing the boutique and buying straight from a supplier, please note that 45% import duties are charged on the DRESS COST PLUS SHIPPING so the duty is more like 60%. Then they still charge handling fees and another tax charge that I can't figure out so when I import anything, I typically pay more on these taxes that the item itself cost. (when I import fabric, something that costed R2800, I pay R3200 duties on.
Why do wedding dresses cost so much?
On a weekly basis I am asked the question, why are wedding dresses so expensive?
Well, part of the answer to this question is above. Fabrication is very expensive, and this is partly because of the above duties. Lace is between R1100 per meter and R3200 per meter and a dress uses between one and 6 meters of lace.More than the fabrics, however, is the labor involved. A wedding dress takes on average between 120 and 200 hours of labor. Between me and my pattern making, to hours and hours of hand stitching lace, to finishing and flawless hems, a team of skilled women work for weeks on each gown to get it to something you can wear with pride.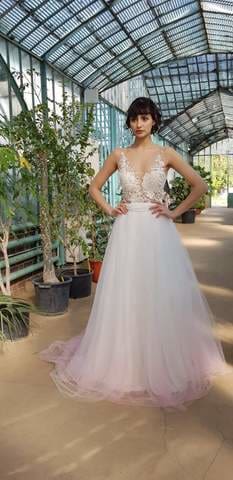 Why are some people able to make a wedding dress for much less than a designer charges?
Because my friends, there is a difference between a designer and someone who "makes dresses". And it's a BIG difference.
So this is something I think it CRITICAL to address because there are people out there giving designers a bad name, and creating fear around having a dress custom made.
I often get people coming in and saying they need a dress after having gone to someone who completely botched their dress and then didn't even give them the money back. I ask the question – was this a professional designer or was it someone who works from home?
Invariably it's a seamstress who "makes dresses" in her spare time and thus charges very little for her services.
The difference between a seamstress and a designer is more than branding and a showroom. A designer has generally studied fashion design, and has an in depth understanding of pattern making, fabrication, latest trends and fabrics and how these work, body types and what will suit you and many other skills. The pattern made for a garment is the foundation of the dress and a highly skilled and time consuming part of the process. Designers would have spent thousands of hours honing this skill as without it, the garment will be ill fitted.
Pattern making is not a skill that seamstresses really have. They will have basic blocks to work from, or may even ask you to bring your own,(bad idea) and this is why the cut and fit is often so bad.
The second vital bit of knowledge is fabrics. Many seamstresses are not up to date with current fabrications and will this revert to what they have always used – invariably cheap looking fabrics like bon-bon and satin. If you have a contemporary design, you need to use contemporary fabrics to achieve the look you want, so if you try to make it out of satin it WILL be a disaster. Designers know this. Seamstresses don't.
Finally, designers have an understanding of body shapes and what dresses are suited to your body shape. Seamstresses will make what you ask them to. Very often I get people coming in asking for a design to be made for them, but after fitting something similar we can see that it doesn't suit them. Designers will make suggestions of styles that will enhance your best features and ultimately make you look great! With a seamstress, you're likely to only discover this when you have finished and realise that you look totally frumpy and tubby. Not ideal.
So, in summary, while I understand that people's budget's vary, I truly encourage you to be very careful when weighing up the cost saving of a seamstress versus spending the extra money on a designer and being safe in the knowledge that you're in the hands of a professional.