Are you feeling the wedding planning overwhelm? From choosing your wedding venue to narrowing down your guest list and selecting your wedding decor, your choices are seemingly endless, making one want to hide under the bed. On top of that, you need to plan your bridal look too! Choosing your wedding dress can be the most fun or stressful part of getting married. Thankfully, Rose from Molteno Couture is available to assist and support you choose the perfect bridal gown and accessories to wear to complement it.
Most people think the bridal look consists of a dress, some earrings and a veil, but it goes further than that. Have you considered how important your bouquet is in the equation? The first time your husband-to-be and your guests see you, you will be wearing the dress, and accessories and carrying your bouquet, so we'd better make sure they all work together to create a coherent look. For help from the experts, we have Fabulous flowers to comment on and give advice on matching your bridal look to your bouquet.
When it comes to finding the best wedding florist in South Africa, Fabulous Flowers is definitely at the top of the list. This company has been creating beautiful bridal bouquets and wedding decor for over 23 years and has been a favourite among couples for all that time.
No matter what your style may be, Fabulous Flowers can create a wedding look that is perfect for you. Whether you are looking for something classic and elegant or fun and funky, this team can handle it all. And, because they have so much experience, you can rest assured knowing that your wedding flowers will be absolutely perfect on your big day.
If you are planning a wedding in Cape Town, South Africa, make sure to contact Fabulous Flowers – you won't regret it!
I love sharing inspiration with my clients, and I have included some options below. Here are some of my favourite bridal clients from the past year whose wedding dresses I custom-made. They each had totally unique aesthetics, and we tailored their dresses and bouquet to reflect their personal style.
Carla and Casper's rustic, bohemian wedding!
Carla is a bright, fun-loving, creative woman who knew exactly what she wanted from day one! She was initially considering importing her wedding dress. Still, she reconsidered when she realized that it would cost her about double the price of the dress after all of the import duties and postage had been paid. In South Africa, we have a 45% import duty on garments, a piece of information many people only discover when it's time to collect their dress from the courier.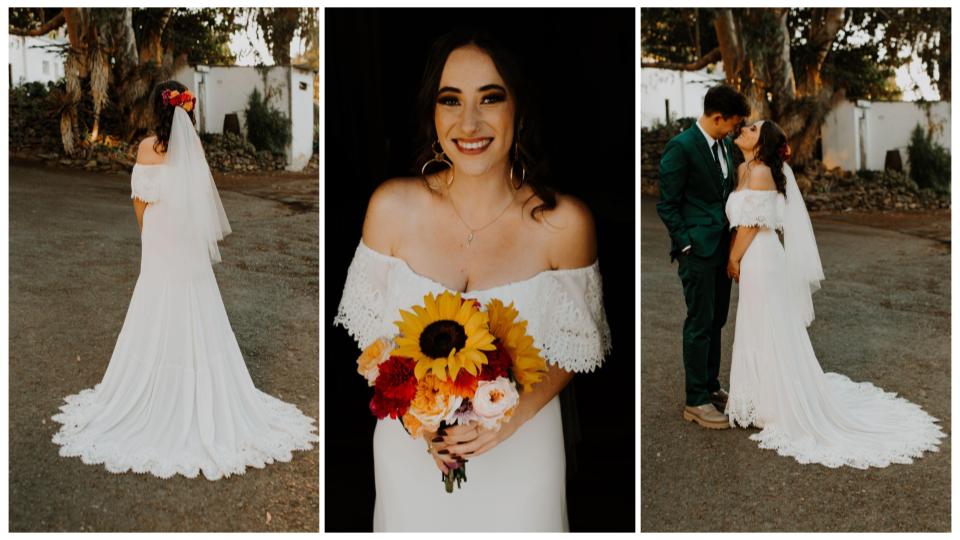 Ultimately, it was much better to have made the dress from scratch anyway, because the original dress did not have any structure in the bodice and, therefore, would have offered no bust support for Carla. Upon consulting with her, I advised putting a really good corset into the dress so it would cinch in the waist and support her bust. I looked at her inspirational pictures and figured out how we could make a gown inspired by her design but make it our own. The boho bridal gown we designed was an off-the-shoulder gown with guipure lace that went all around her bust and shoulders. It was fitted on the top and hips but then had inserts in the chiffon to create a wide, flared bottom skirt and voluminous train. On the bottom edge of the dress, we appliqued cotton boho lace that I imported from Europe, creating incredible drama! For more of my bohemian wedding dresses, browse here.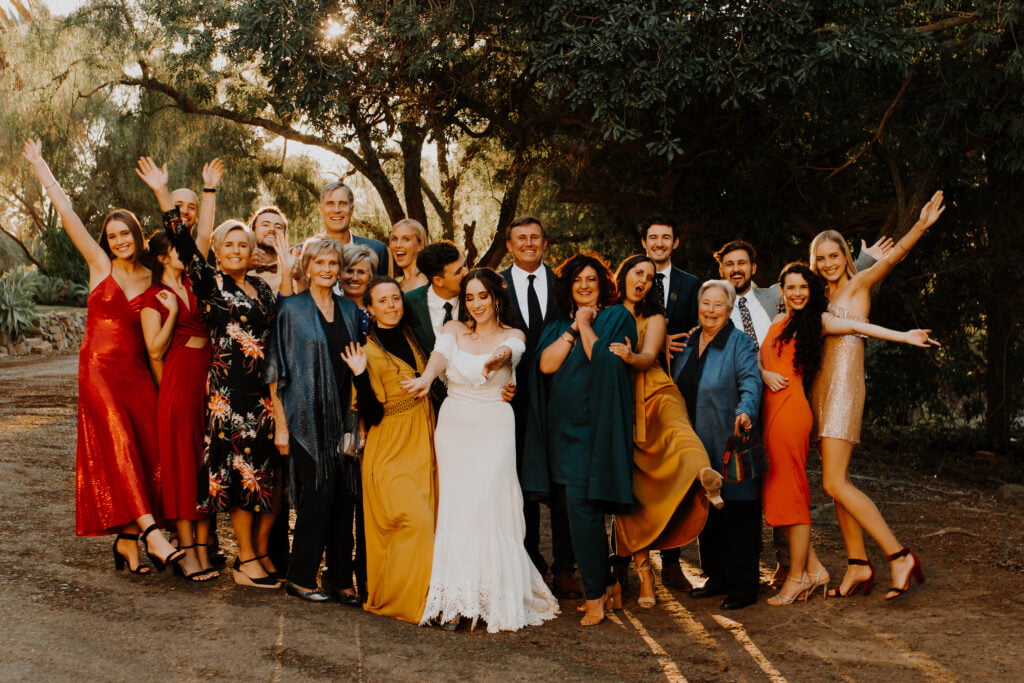 Carla and Casper's theme was fun, colourful boho. When styling her, all I could think of was Freda Carlo as she put big bright flowers in her hair. She had a cerise pink wrap, and her flowers were cheerful, fun combinations of sunflowers, chrysanthemums, carnations, gerberas and beautiful roses.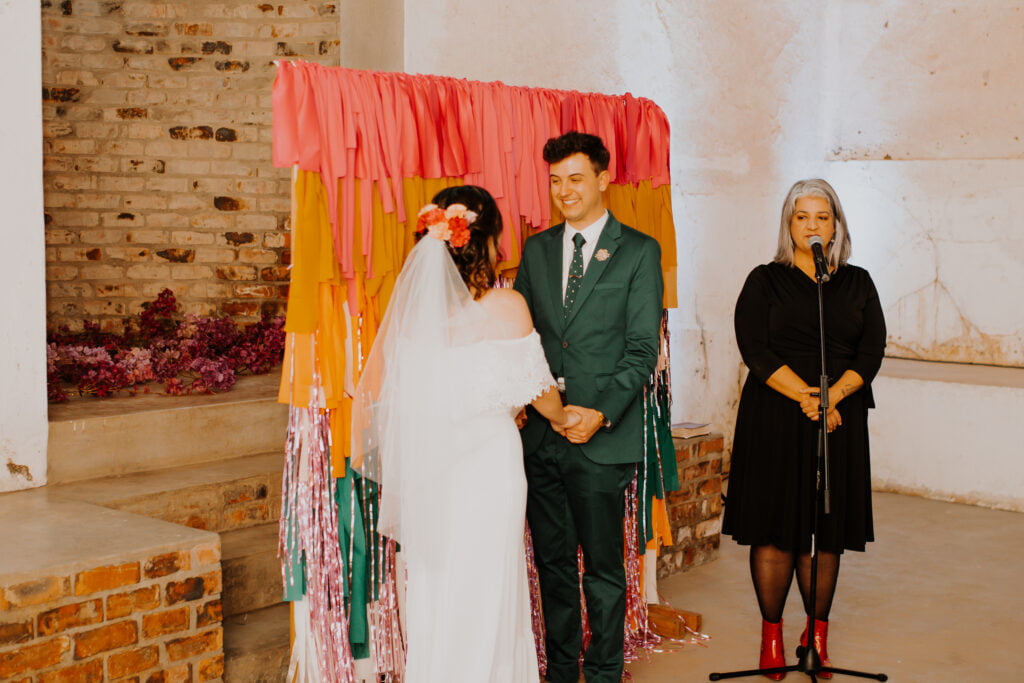 The Dairy Shed is a rustic venue that needed very little decor, so the bright flowers and handmade backdrop worked perfectly for the fun, relaxed wedding. Photography by Guy Chapman Photography.
Lee's glamorous beach wedding
Lee's dress was one of Rose Molteno's favourite custom-made wedding dresses I've made. Her theme was beach glam, and her dress certainly was glamorous. Being a slim but relaxed bride, she wanted a beautiful corset but a soft and flowing skirt so she could easily dance and have fun on her wedding day. I made an illusion-bustier corset with a webbed design of beaded fabric as an underlayer and embroidered and beaded lace details placed on top of the fabric. The beaded fabric we used to create a delicate halter detail that was hand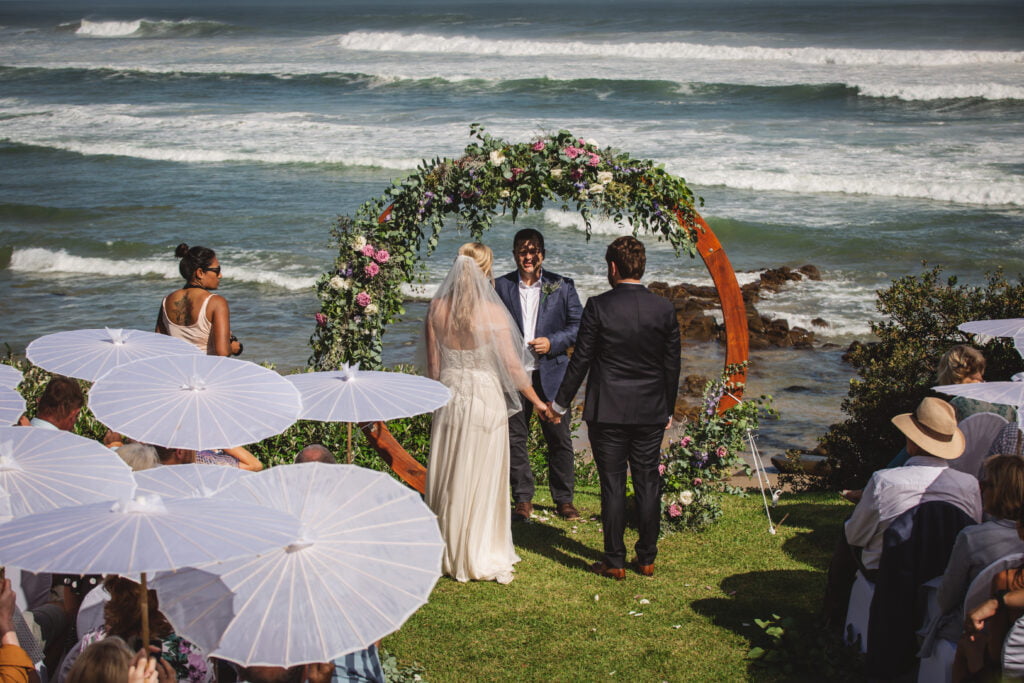 beaded along the edges, as we did for the top edge of the corset. Finally, a double-layer silky chiffon skirt billowed in the wind and finished this breathtaking look.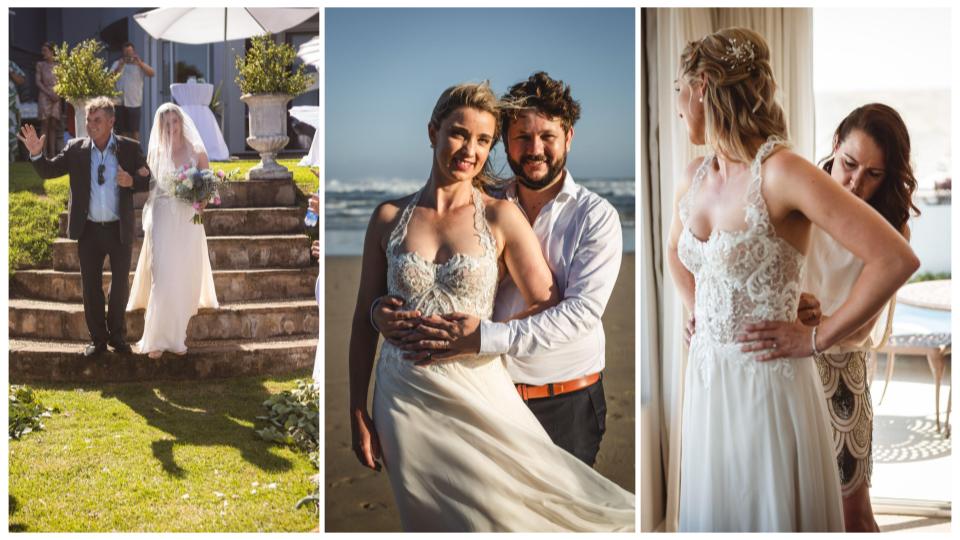 Lee's hair and make-up were understated and natural. Her hair was a half-up, half-down style, with some hair softly snatched into the back of her head. For the ceremony, she wore the veil, and after that, they put the delicate baby's breath into her hair. Lee's make-up was very natural looking, with a dewy finish on her skin to give her a youthful aesthetic.
They said their I-do's in front of a beautiful floral arch on the lawn of the Morgan Bay Hotel outside of East London. The ceremony was on the lawn, with the beach and waves rolling in behind them. Silhouette Photography captured the wedding in an incredible photojournalism style, the local band Goodluck played live at the reception to top off an amazing day! Lee is caught on camera stage diving, making her officially the coolest bride, according to Molteno!
Bianca and Tristan's modern boho wedding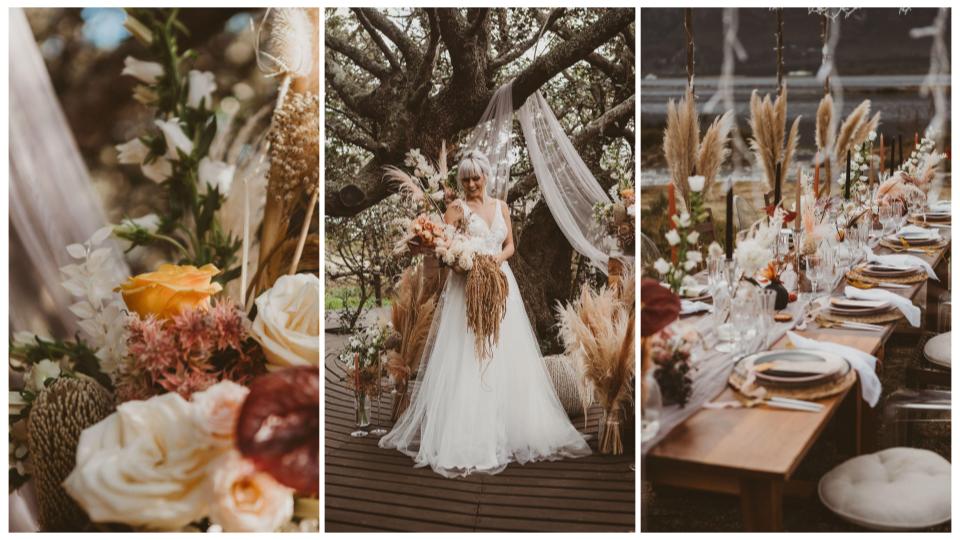 Bianca went full-blown modern bohemian as the style of the wedding. She matched this with her soft tulle wedding dress which may not be overtly boho, but it fits well with the whimsical, romantic look and feel of the wedding day. Bianca chose one of my existing designs that perfectly suited her personal style, figure and aesthetic. The wedding dress was a draped tulle gown with floral lace hand appliqued onto the bodice and down the skirt. It was simple and elegant, which worked perfectly as the bouquet, and floral décor really took center stage. Browse my wedding dress collections here.
Bianca had her bridal hair and make-up done by Leoume' Vos hair and Make-up. Her bridal look was natural elegance. Leoume' made a soft updo in her hair and stuck to very natural tones for her make-up.
The wedding took place at Mosaic Lagoon Lodge in Hermanus. This 5-star luxury lodge is perfect for a bohemian wedding. The wedding was held on wooden decks against the backdrop of the lagoon. Captured photography took exquisite photographs, ensuring they had memories that would last a lifetime!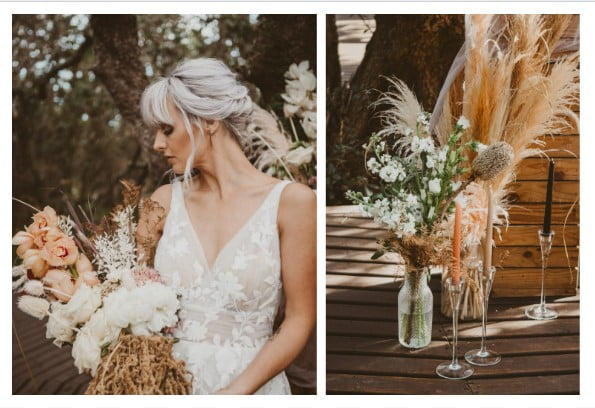 The wedding couple held back at nothing for this extravagant bohemian-style wedding. They hired a jumping castle for the children, but even the wedding couple got involved, taking pictures and jumping on it after the ceremony!
All things wedding provided the hiring of all the chairs, fairy lights and extra decor that created a seamlessly styled wedding.
From a floral perspective, Bianca's bold bouquet accentuated her gorgeous gown and modern, glam bohemian chic theme for her special day. Everything about these photos captures the essence of a unique wedding event, with the dress and bouquet taking centre stage, as it should.
The natural bouquet includes fresh cymbidium orchids and luscious blown white roses paired with dried whimsical flowers.
Selina and Chris' luxurious English wedding
I had the pleasure of custom-making this show-stopping wedding dress from Selina, a bride from England but living in Stellenbosch with her husband. Yes, that's right, the couple were legally married but wanted to celebrate with their British family and friends. The couple had a legal wedding six months before, but their international guests could not attend because of border restrictions. They also wanted the big celebration at Davenport house, a magnificent Grade 1 listed Georgian country house in Shropshire, England. The family home, with a rich history, has kept its original features and authentic historical feel.
For this extravagant wedding, I created a bridal gown dripping in floral lace and intricate beadwork from head to toe. Selina's dress was a perfect combination of modern styling, and luxurious tradition. Her slim figure meant she could pull off a fit and flare-gown made entirely of embroidered lace. The bodice was a deep V-neck style in the front and a completely open back. We hand-applied exquisite beaded lace over an illusion bodice, with the edges of the dress created with the organic edges of the lace. The bottom of the dress was full of volume, created with panels of lace and tulle. The dress had a long dramatic train made with soft, romantic tulle, and the back was finished with a long row of covered buttons.
For more on custom made bridal gowns, browse here.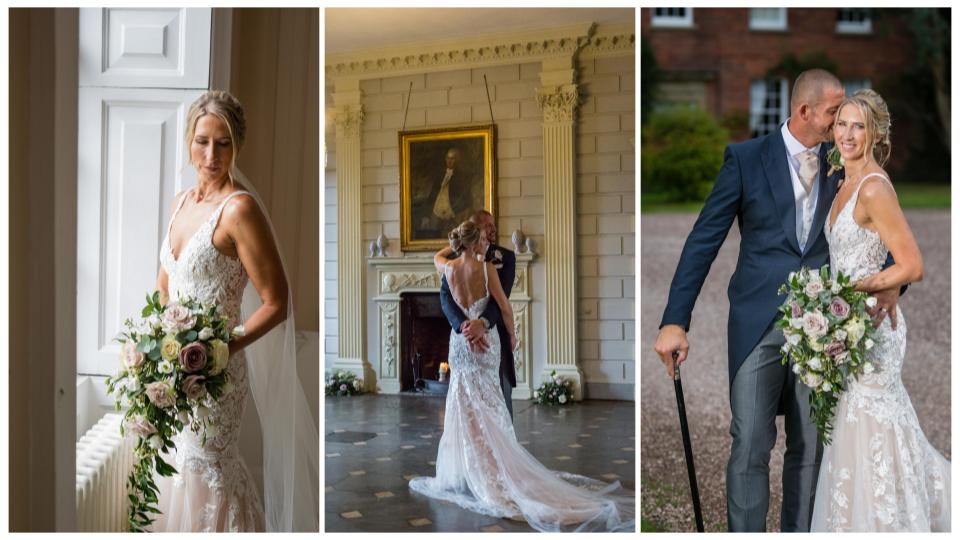 Selina and Chris married at the luxurious Davenport House in the UK, and everything, including the flowers, was exquisitely matched!
Jol Photography took exceptional photographs of the wedding day, capturing her bridal look with style and taking dramatic pictures of the venue and the couple dancing, among other things.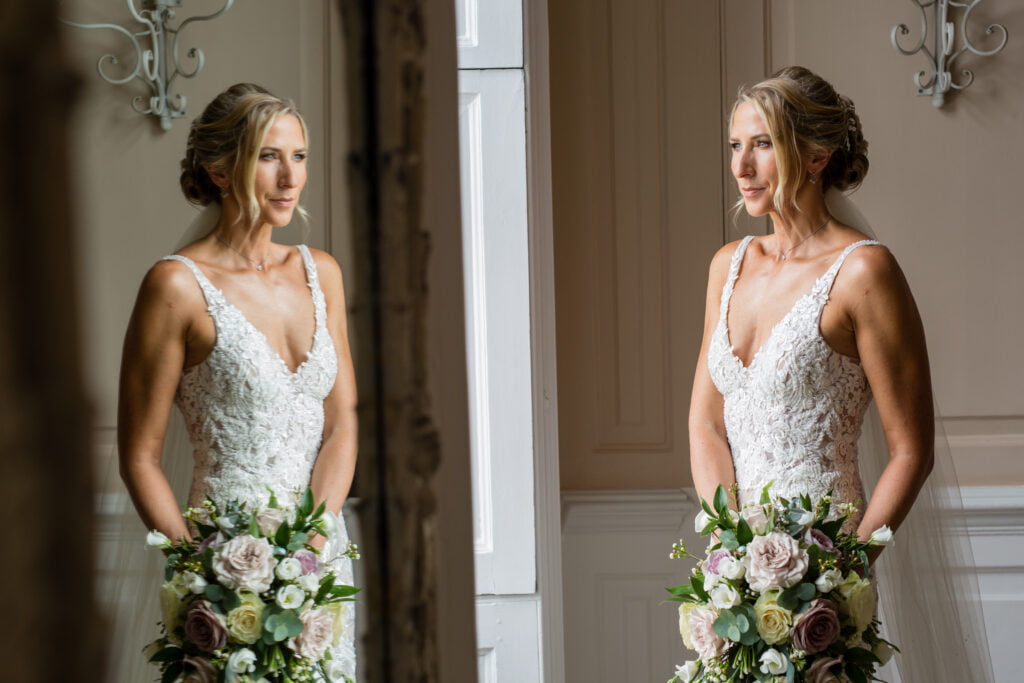 Selina holds an exquisitely designed wedding bouquet with lilac and cream garden spray roses, trailing greenery, brunia and lisianthus.
Let's face it, the flowers for your special day should be just as memorable as your wedding dress. Rose from Molteno Couture recommends adding the finishing touches to your bridal look with a beautiful bouquet of flowers from Fabulous Flowers. Whether you opt for dramatic hues or more muted shades, they have something special to match any wedding dress. With a wide selection of bridal bouquets, Fabulous Flowers is the perfect place to find your dream wedding flowers. And, if you're looking for wedding dress designers in Cape Town, Rose from Molteno Couture can help you find the perfect fit for your big day! So don't