Hi Friends!
I have had the privilege of working with some pretty awesome clients over the past few years and one of my most fun projects was when I got to work with Saajida on her wedding dress.It was a collaboration between her, her mom, a very talented beader and my team at Molteno.
Saajida had a few different pictures that she wanted to amalgamate into one show stopping wedding dress. She had the idea of this mesh beaded bodice and a full skirt with 3D flowers and a 2.5 meter long train. As I was not capable of doing the beading, she managed to find a lady who could. So I made the corset and over bodice with long mesh sleeves and a high neck. I then gave this constructed bodice to the beader to do her magic on. Saajida bought 9 meters of 3D flower lace to use for the skirt. She wanted this lace to be beaded too so she recruited her mom to hand bead all the little flowers and then bring the fabric to me.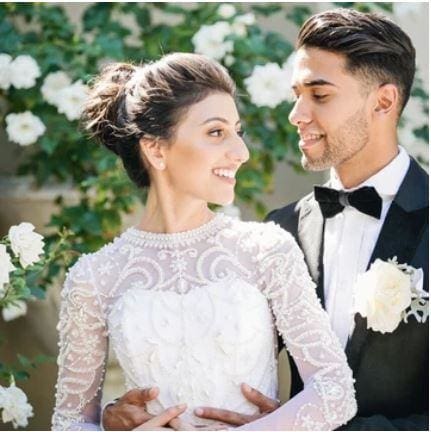 Once I had all the bits I needed, I created a wide tulle skirt and spent hours carefully appliqued the beaded floral lace together to create a voluminous skirt and long 2.5 meter long bridal train. I hand sewed flowers on to create a full design and once the beader was finished I put all the pieces together and started on the finishing.

A true collaboration created this spectacular gown and on the day Saajida looked absolutely incredible!