Hi Friends!

The biggest trend in weddings that I've noticed in recent seasons, is that of the forest wedding. There are some absolutely spectacular wooded wedding venues in Cape Town and surrounds and this rustic, bohemian vibe has taken preference over the traditional Cape Town Wine Farm wedding amongst many of my more modern brides.

With the above in mind, I decided I would help you find your perfect forest wedding venue by listing my favourite woods in which to wed!
BELOFTEBOS- WOODED WEDDING VENUE STANFORD
Beloftebos is one of the most popular forest wedding venues around Cape Town, and for obvious reasons!
The venue has a gorgeous farmhouse nestled on the banks of the Paardenberg River, and beyond that is a spectacular forest of oak trees. You can say your I-do's to your beloved underneath the canopy of these great trees, which can provide cool respite from the heat if you're planning on getting married in midsummer. The trees will also help to provide shelter from the infamous Cape Town wind, which your guests will undoubtedly be happy for.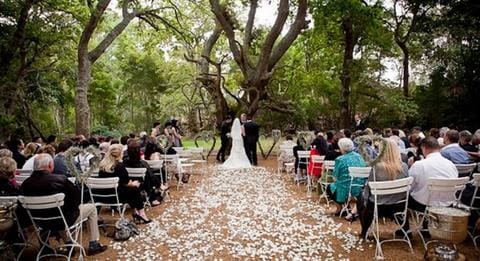 Everything at the venue has been hand crafted and inspired by nature, so if you're going for a bohemian styled wedding, this is right up your alley!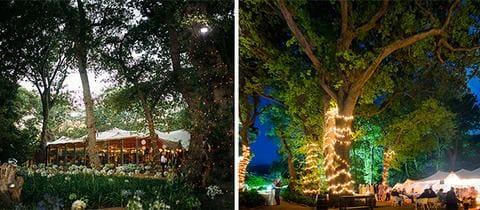 Due to the venue's cozy and luxurious reception area, Beloftebos has also been flagged as a great venue for a winter wedding too!
DIE WOUD – FAIRYTALE FOREST WEDDING VENUE CALEDON
Now one of my very favourite bohemian brides, Gia, got married in my custom made couture bridal ensemble amongst the trees at Die Woud. I must say that I was completely blown away by the beauty of her wedding! The modern bohemian wedding at it's best!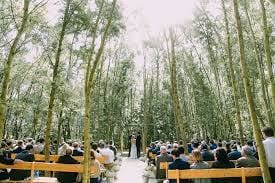 The venue is nestled between established oak trees and breathtakingly tall wattle trees, and provides the perfect space to get in touch with nature! You can either dine out in the open air, or underneath their clean PVC tent, but either way you get to experience the romance of this ageless forest.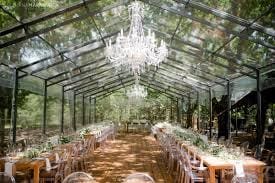 The ceremony itself takes place in their constructed "open air church" underneath the wattle trees.The guest will then walk to the reception area through the trees, where they are seated at wooden tables lit with fairy lights.

If you have a large wedding party, then Die Woud is perfect for you as it accommodates up to 140 guests.
DE UIJLENES – WOODED FORES WEDDING VENUE GANSBAAI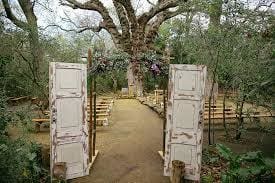 De Uiljenes provides a real woodland wedding dream!
Say your vows in an oak and indigenous forest with a sea of white arum lilies surrounding you. Your guests can have pre-drinks in the forest picnic area while the couple explored the myriad of perfect natural spots to take their romantic photographs.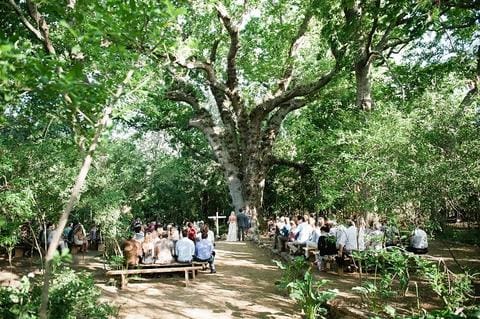 For the reception, you can get cozy in the rustic old 19th century barn that has been lovingly converted into a totally unique venue. It comes complete with numerous open fire places on which to make s'mores, and warm your toes on cold winter nights. For this reason, De Uijlenes is a perfect venue for a winter wedding.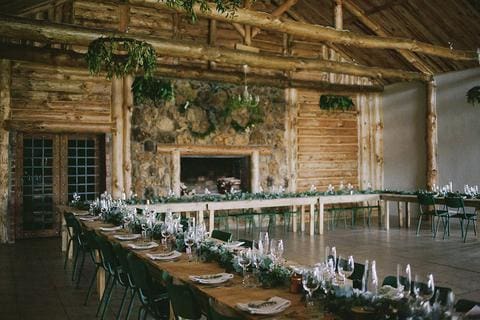 If you're planning a romantic, bohemian winter wedding or a laid back rustic style wedding, this is the ideal venue for you!