Planning your 2019 wedding and wondering what bridal trends are in this year? Don't worry, we've got you covered! Here are five of the top bridal trends to help you recreate the look of your dreams. Your 2019 wedding planning starts here!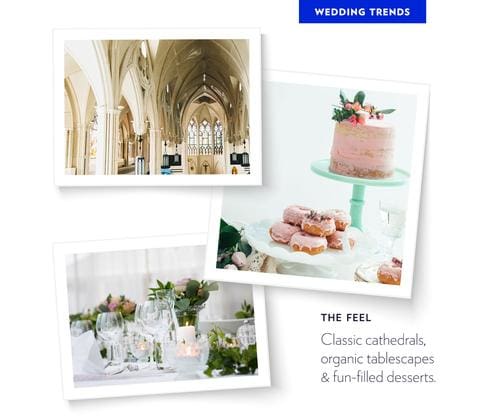 No-care wedding hair
It should comes as no surprise that the Duchess of Sussex has inspired many brides to rock undone buns and intentionally messy hairstyles following the royal wedding. But these aren't your typical "lazy day" hairstyles. Think of them as messy, but in a controlled way. The key to pulling of this look is to make sure that your hair doesn't become a mess after a few hours. Loose waves, windswept locks, and face-framing curls are just a few of the many ways you can replicate this relaxed and effortless look for your wedding.
Natural makeup
In previous years, bridal makeup was all about the glitz and glam. This year, we'll see many brides going for the "no makeup" or natural look on their big day. It doesn't get more timeless than natural makeup that shows off your skin's gorgeous glow. And a glowing complexion will always yield perfect photos! If you're looking to add a pop of colour to your natural look, try a bold lipstick.
Pear shaped engagement rings
2019 is said to be the year of the pear shaped diamond. These are a great choice for brides because their unique shape allows you to showcase your individual style and personality. Not to mention, they have a large spread which allows the diamond to appear larger than it actually is. For example, a carat pear shaped stone will appear larger than a carat in a cushion cut. This is perfect if your budget is a little lower because you can choose a smaller carat size and still get the look you want! We'll be seeing this trendy style at most jewellers this year, including online jeweller Blue Nile, who offers pear shaped engagement rings in a variety of stones and styles.
All over sparkle dresses
From sequins to beading and metallic embellishments, sparkle gowns will be one of the top picks for brides this year. Not only can sparkle dresses be daring, they're also very sophisticated. For this look, be sure to keep your accessories minimal so they don't take away from your glitzy gown. Click here to shop our collection of unique wedding dresses.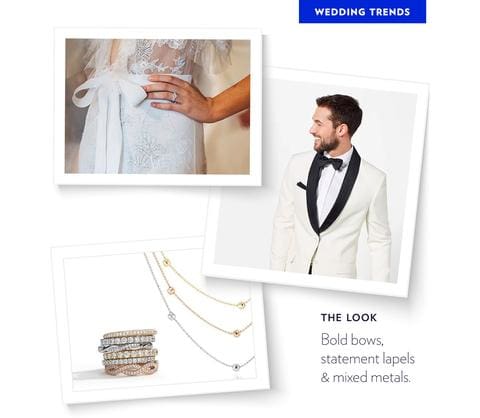 Bridal jumpsuits
If you're ditching a big ceremony for a smaller celebration or just going for a more casual look, a bridal jumpsuit is perfect for you! Not only are they comfortable, they're figure flattering and totally on trend. For a modern ceremony, a jumpsuit with a lacy top is perfect. For more casual nuptials, a tailored white pant suit is your best option! There are so many styles including flowy, bohemian, and cropped, the possibilities are endless for pulling off this trendy look!