Shopping for your ideal wedding dress is no small task and many brides find it completely overwhelming. For this reason, I thought I would give you a few tips to bare in mind before setting out on your trip.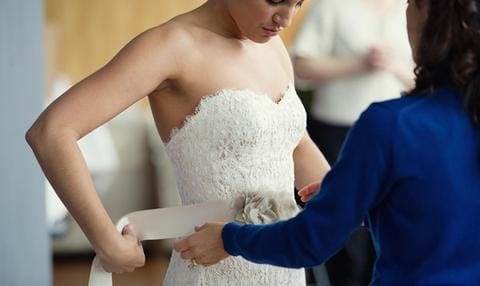 Don't over book your day
While I always advise that my brides try on a number of different wedding dresses of differing styles and shapes, I wouldn't advise you try to do so all in one day. Book appointments with at least three bridal shops and try on a wide selection of dresses, but don't go to more than two or three shops in one day. The reason for this is that it can be tiring and you will start to feel overwhelmed and over saturated with choices. The result is that you won't remember what you tried on.
Pick a quiet time
If possible it's better to shop for your wedding dress during the week. This will allow for plenty of time as wedding shops are generally tightly booked on Saturdays.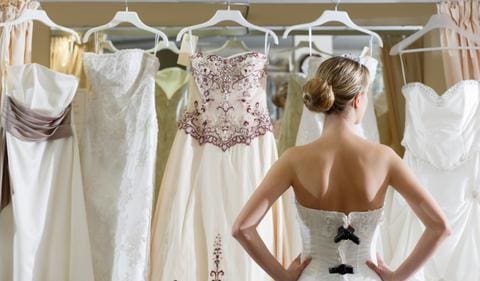 Be careful of who to bring with you
I wouldn't advise bringing too many people with you to your bridal fitting. Bring one or two people who's opinions you value. If you bring too many people their opinions may confuse you and you will struggle to get your own opinion heard.
Keep an open mind
Keeping an open mind when it comes to styles and shapes of wedding dresses is very important. More often than not my clients are surprised by what dresses look good on them and the style they thought they wanted actually doesn't flatter. Wedding dresses are constructed differently from normal dresses and they have structure that other dresses don't. This means that a shape that usually doesn't work for you, may be the right one for your wedding dress.
Decide on a Wedding Dress style
Before you go shopping decide on the style of wedding you are going to have. Are you planning an informal beach wedding, or a glamorous do on a wine farm? Think about the time of day you plan the wedding to be. If it's an evening wedding then a more formal bridal gown will suit, while if it's a morning wedding then a more informal style will be better suited.
Which White
Which white do you go with? I rarely recommend going with pure white as this tends to wash out all but the darkest of skin tones. Off-white to cream colours are usually better suited. Don't dismiss the gentle colour times that are in vogue at the moment either. Champagnes, blushes and even pale blue hues can be incredibly beautiful and may suit your skin tone better.
Time is Ticking
Finally, I would advise that you start this process at least 6 months before your wedding. This is because if you want to order an imported dress then it takes 3 to 4 months to get to South Africa. It's also to allow for the time to explore custom made options. My clients usually come to me after trying on a number of dresses but not having managed to find all that they want in a single dress. We then design the gown with elements of different dresses to obtain everything they want. The custom made process should allow for 3 months ideally so that it can be done in a relaxed manor and there is lots of time for fittings.