Your wedding day is one of the most important and memorable days of your life, and every bride dreams of looking and feeling her best. While finding the perfect wedding dress is a crucial part of achieving that dream, choosing the right undergarments and accessories is equally important. These hidden elements play a significant role in enhancing your comfort, confidence, and overall bridal look. In this guide, we'll explore what undergarments and accessories to wear with your wedding dress to ensure that you shine on your big day.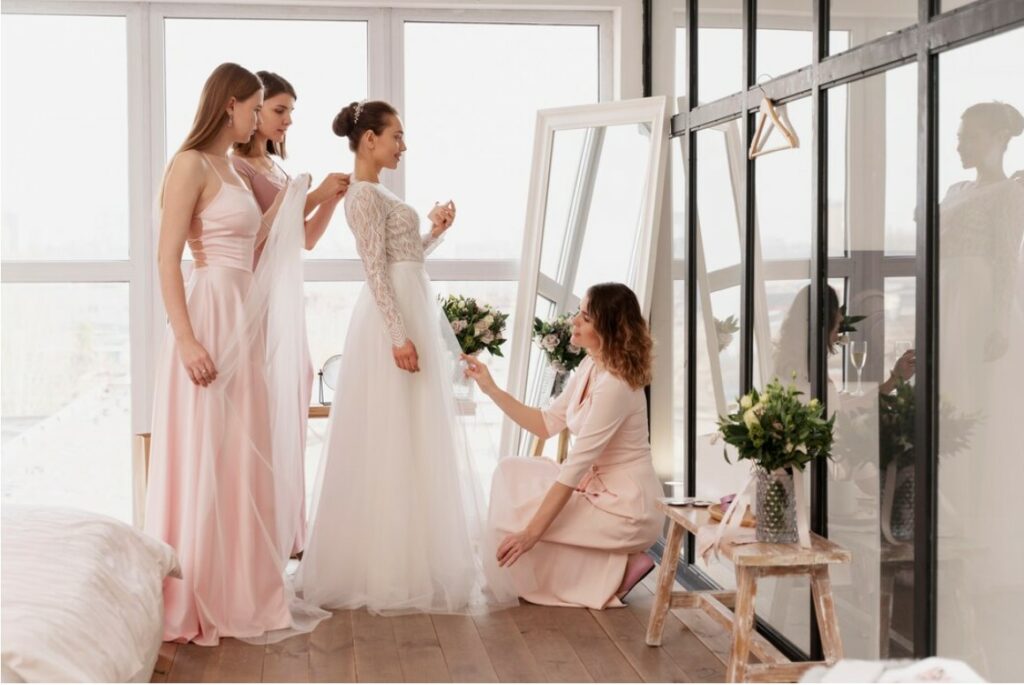 Undergarments
Bridal Lingerie
Bridal lingerie is specially designed to complement wedding dresses, offering comfort and support while maintaining an elegant, romantic appearance. Here are some key considerations when selecting bridal lingerie:
Bra:
Depending on the style of your dress, you may need a strapless or backless bra. Many bridal boutiques offer specialized bras that provide the necessary support without visible straps or closures. Make sure it fits well and provides ample support for your bust.
Panties:
Seamless and nude-colored panties are a safe choice, as they won't create visible lines or distractions. You may also opt for high-waisted shapewear to smooth your silhouette and enhance your dress's fit.
Garter Belt:
If you're planning to wear a garter, choose one that matches your lingerie set. Garters are a traditional wedding accessory and can add a touch of romance to your ensemble.
Hosiery: Sheer stockings or tights can enhance the look of your legs and complement the style of your dress. Be sure to choose a shade that matches your skin tone for a seamless appearance.
Bridal Shapewear
Shapewear has become a valuable tool for brides to achieve a smooth and streamlined silhouette. It can provide extra support and enhance the fit of your wedding dress. Here's what to consider when selecting shapewear:
Choose the Right Level of Control:
Shapewear comes in various levels of control, from light to firm. The choice depends on your comfort and the style of your dress. Some brides opt for full-body shapewear to ensure a smooth line from top to bottom.
Shapewear length matters:
Pay attention to the length of the shapewear. High-waisted shapewear can help smooth your midsection and accentuate your curves, while a full bodysuit can provide overall support.
Try It On with your wedding Dress:
Ensure you try on your wedding dress with the shapewear to guarantee that it enhances your dress's fit and doesn't create any unwanted lines or bulges.
Comfort is Key:
While shapewear is designed to enhance your figure, it should still be comfortable to wear for extended periods. Look for breathable fabrics and a comfortable fit to avoid any discomfort on your wedding day.
Slip or Petticoat with your wedding dress
A slip or petticoat can make a significant difference in how your dress drapes and moves. Depending on the style of your gown, you may need a full, A-line, or mermaid slip. Here are a few things to consider: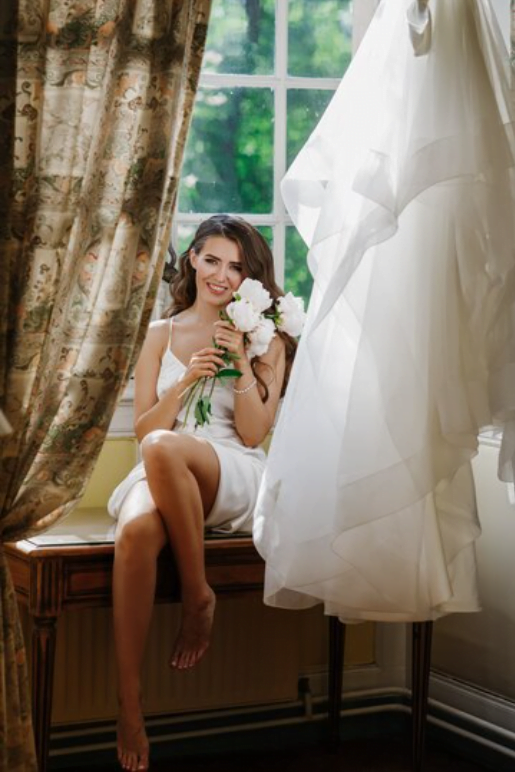 Your wedding dress Shape:
Match the slip's shape to your wedding dress. A ball gown dress typically requires a full slip to achieve that classic princess look, while a mermaid dress might need a slip that accentuates the silhouette.
Slip length:
Ensure that the slip is the correct length for your dress. A longer slip can cause the dress to bunch up, while a shorter one might not provide the desired effect.
Slip Fabric:
Choose a slip made from a comfortable, breathable fabric that doesn't irritate your skin.
bridal Accessories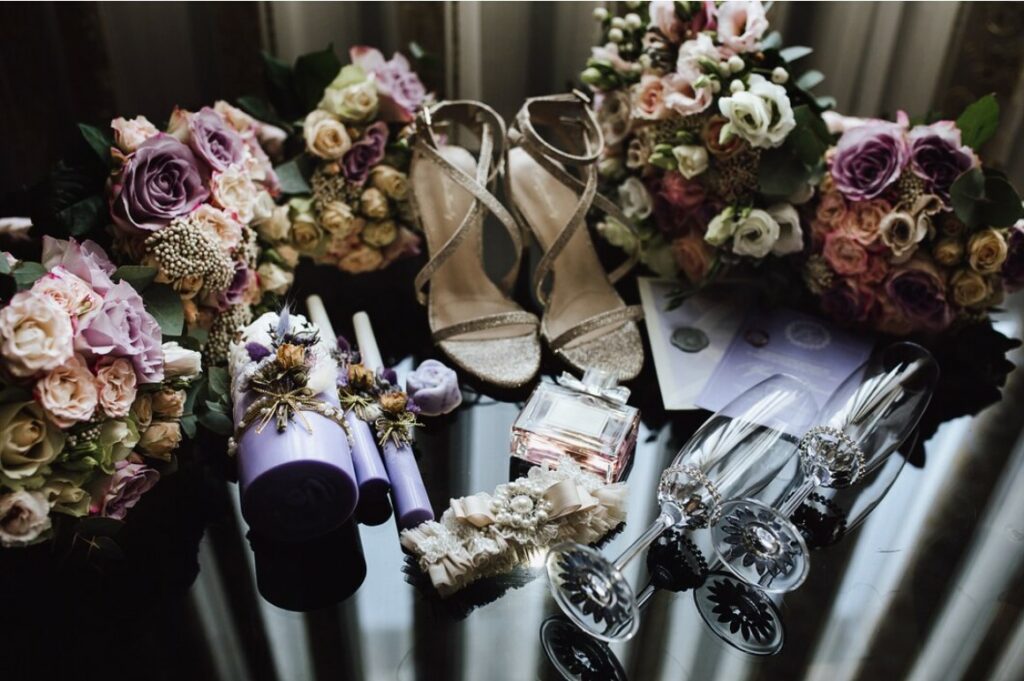 Veil or Headpiece
The choice between a veil and a headpiece depends on your personal style and the design of your dress. Here's what you should know about each:
Veil:
Veils come in various lengths and styles. A cathedral veil is dramatic and perfect for formal weddings, while a short blusher veil offers a more casual and contemporary look. Consider the veil's length and design in relation to your dress and the overall wedding theme.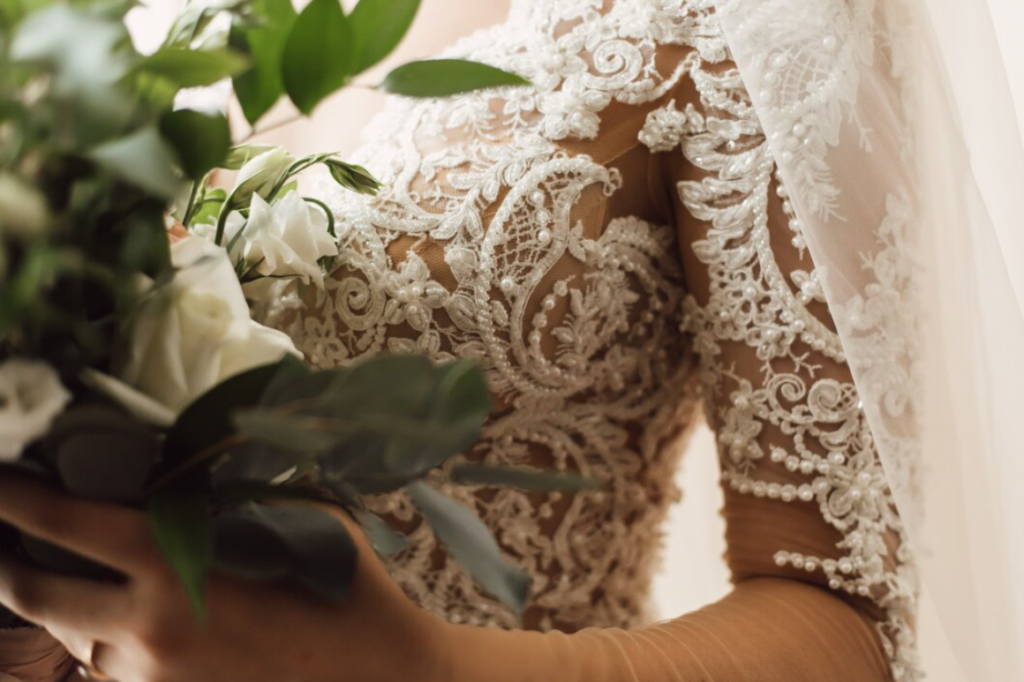 Headpiece:
If you opt for a headpiece, it can be a tiara, headband, comb, or flower crown. Your choice should harmonize with the dress style, your hairstyle, and any other accessories you plan to wear.
Wedding Jewelry
Jewelry plays a crucial role in enhancing your bridal look. The type of jewelry you wear should complement the neckline and style of your dress. Here are some jewelry suggestions:
bridal necklace:
For dresses with a sweetheart or V-neck neckline, a delicate pendant necklace can be a great choice. High-neck dresses may not require a necklace, as the focus is often on the neckline itself.
Wedding earrings:
Statement earrings can be an excellent choice for a simple or strapless gown. They draw attention to your face and can add a touch of glamour.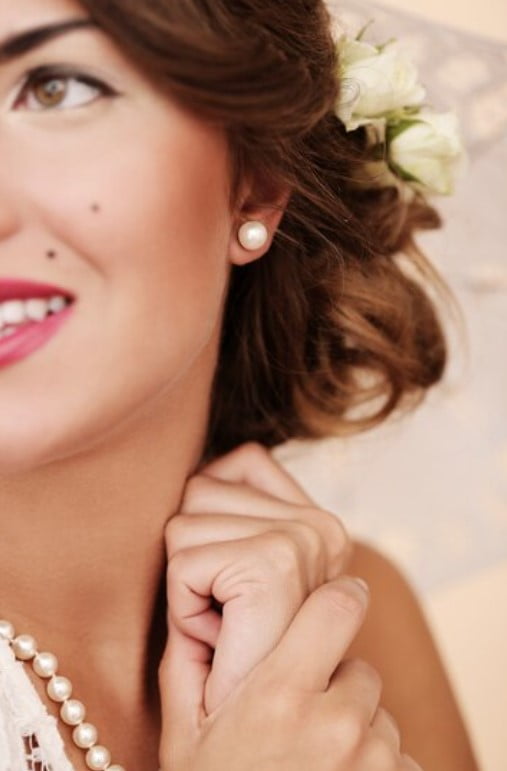 Bracelet:
A bracelet can be a subtle yet elegant addition to your bridal ensemble. Consider the style of your dress and other jewelry when selecting a bracelet.
Rings:
Of course, you'll be wearing your engagement and wedding rings. Ensure they're polished and pristine for your big day.
Wedding shoes
Your wedding shoes are more than just footwear; they're a crucial accessory. Here are some factors to consider when choosing your wedding shoes:
Comfort:
You'll be on your feet for much of the day, so comfort is key. Opt for a pair that fits well and provides support.
Height:
Consider the heel height based on your comfort level and how it affects the length of your dress. If your dress is tailored for a specific heel height, ensure your shoes match that height.
Style:
The style of your shoes should complement your dress. For a traditional gown, classic white or ivory shoes may be best. However, if you're aiming for a unique and bold look, you can opt for colored or embellished shoes.
Bridal Belt or Sash
If your dress is relatively simple and you want to add a touch of flair, consider a bridal belt or sash. These accessories can define your waist and add a pop of color or sparkle. Be sure to choose one that matches the overall theme of your wedding and doesn't overpower your dress.
Clutch or Purse
A small clutch or purse can be a practical accessory for carrying essentials like lipstick, tissues, and a small mirror. It's also a great place to keep a copy of your vows if you plan to read them during the ceremony.
Final Tips
Consult with a Professional:
When choosing undergarments and accessories, it's a good idea to consult with a professional at the bridal boutique. They can offer valuable advice and help you find the perfect pieces for your dress.
Try Everything On Together:
Before your big day, try on your wedding dress with all the chosen undergarments and accessories to ensure they work together seamlessly.
Consider Your Comfort:
While style is important, don't forget about comfort. You'll be wearing your wedding dress and its accompanying accessories for an extended period, so make sure you feel at ease.
Personalize Your Bridal Look:
Your wedding day is about you, so don't hesitate to add personal touches to your undergarments and accessories. Incorporate meaningful jewelry